---
Til interesserede i kirkens vilkkr verden over og i Dansk Missionsrrds arbejde - Online udgave - [Om red.] - Bestil - Afmeld
---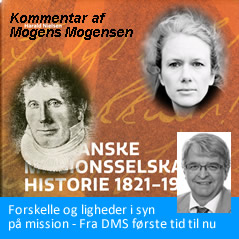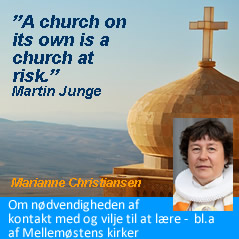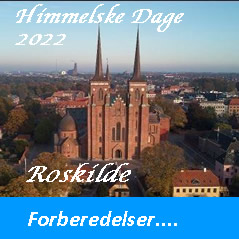 ---
Kalender: 07-03-2020: Himmelskedage i Roskilde -Opstart - 21-10-2020: Lausanne Conference: Dynamic Gospel - New Europe -
Kalenderen medtager arrangementer af kirkelig, missional interesse - fra stiftsniveau over landsplan til et udvalg af relevante, internationale konferencer, seminarer o.l. [FF arrangement optaget] Link pp billede ffrer til biografiske oplysninger
---
KirkenUpdates database har tilintetgjort månedens nyheder i det sædvanlige format - men se nedenfor [Her]
---
Kommentarer, artikler og introduktioner:

---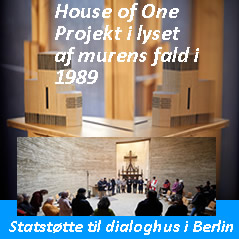 House of one in Berlin

Thirteen representatives from nine different faith traditions - Baha'i, Jews, Hindus, Christians, Buddhists, Muslims, Sikhs, Sufis, Asatru - prayed on Thursday for peace and tolerance. They gathered in the Chapel of Reconciliation, a special place on the former death strip in the middle of Berlin, on the occasion of the 30th anniversary of the fall of the Berlin Wall. LLs mere.
..Pastor Gregor Hohberg (House of One), himself an East Berliner, grown up in a country that no longer exists, reminded of the role of the churches in the turbulent months of 1989: "Countless people, whether religious or non-religious, gathered in the churches and demanded political changes. Fredsbbn pp mindedagen for murens fald.

---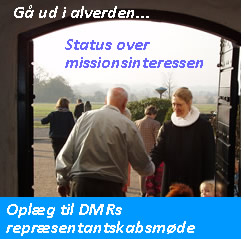 Mission - en situationsstatus - DMR

Danske missionsorganisationers fremtid. Opllg til DMRs nys afholdte reprrsentantskabs mmde: Status over missions"interessen" i DK. LLs mere.

---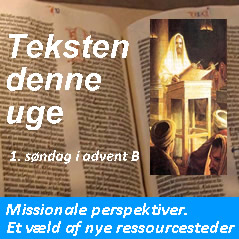 Teksten denne uge

Teksten denne uge er et ressourcevvrkttj til forberedelse af gudstjeneste og prrdikenen. PP ssndag, 1. s.i advent, er der god lejlighed til at prrdike missionalt. Jesu "program" er ogss vores program. LLs mere.

MÃ¥nedens nyheder
Amazonsynoden: Livstilsændring i vesten nødvendig#
Saving Amazon rainforest requires change in Western lifestyles, say synod bishops#
22-10-2019#
https://religionnews.com/2019/10/22/saving-amazon-rainforest-requires-change-in-western-lifestyles-say-synod-bishops/ #
Saving the Amazon rainforest requires action by Western nations, a Surinamese bishop attending the Catholic Church's synod on the Amazon region said, charging that the people of the Amazon cannot do it by themselves. "Even if we implement all the measures against deforestation or against the polluting of the rivers," explained Bishop Karel Martinus Choennie of Paramaribo, Suriname's capital, "it would still not have an effect if (people in) the Western world — Europe, America, Japan and China — don't change their lifestyles."#
8#
¤
Kurdiske kristne vil blive efter amerikansk tilbagetrækning#
Christian aid groups vow to stay to help after US sudden withdrawal from Syria#
22-10-2019#
https://religionnews.com/2019/10/22/christian-aid-groups-vow-to-stay-to-help-after-us-sudden-withdrawal-from-syria/ #
Earlier this month, the pastor of a Kurdish Christian church in northeastern Syria gathered his congregation to decide whether to leave or stay as Turkish forces pressed into the region after U.S. troops had suddenly withdrawn. In an area threatened for years by both the Syrian civil war and the international fight against the Islamic State group, the church was now in the path of a new offensive against the Kurdish militias that Turkey had branded as terrorists.#
8#
¤
Øst- og centraleuropæisk konference om Luthersk identitet#
Churches in Central and Eastern Europe discuss Lutheran identity, diversity and pneumatology#
06-11-2019#
https://www.lutheranworld.org/news/churches-central-and-eastern-europe-discuss-lutheran-identity-diversity-and-pneumatology #
Churches should make sure that believers and the church itself are not pushed back into privacy behind church walls and away from the public space, said Urmas Viilma, The Lutheran World Federation's (LWF) Vice-President for Central Eastern Europe and Archbishop of the Estonian Evangelical Lutheran Church which hosted the 2019 Church Leadership Consultation for Central and Eastern Europe. "A church leadership conference for Central and Eastern Europe is especially important because the churches don't have many possibilities to come together," says LWF Area Secretary for Europe, Rev. Dr Ireneusz Lukas. The region might appear to be relatively homogeneous at first sight but the situation in each of the churches and countries differs considerably, he added. #
8#
¤
Efter Amazonsynoden: Den synodale kirkes nødvendighed#
Synodality isn't just an option, it's the only way to be church#
13-11-2019#
https://www.ncronline.org/news/opinion/faith-seeking-understanding/synodality-isnt-just-option-its-only-way-be-church #
Drawing on his own experience as a participant in the Synod of Bishops for the Pan-Amazon Region last month and having overseen a local synodal process in the San Diego Diocese, McElroy identified four ecclesial characteristics that result from a more-synodal existence: a missionary church, a participatory church, a welcoming church, and a church of harmony.#
8#
¤
Pentekostal leder rådgiver for Trump#
Paula White to head Trump's faith office#
01-11-2019#
https://religionnews.com/2019/11/01/paula-white-to-head-trumps-faith-office/ #
Paula White, a Pentecostal preacher and longtime adviser to President Donald Trump, has been tapped to head the White House's Faith and Opportunity Initiative, a successor to previous administrations' faith-based office that coordinates outreach to religious communities.#
8#
¤
Barikaderer sig i kirke for at undgå nedrivning#
Chinese Catholics barricade themselves in church to prevent demolition#
01-11-2019#
https://www.catholicnewsagency.com/news/chinese-catholics-barricade-themselves-in-church-to-prevent-demolition-32471 #
Priests and parishioners have barricaded themselves in a Catholic church in the Chinese province of Hebei. According to reports, the Catholics are attempting to prevent the Chinese government from tearing down the Church. #
8#
¤
Signal om ny tid med religionsfrihed i Sudan#
Religious Affairs Minister in Sudan Signals Freedom of Religion in New Era#
04-11-2019#
https://morningstarnews.org/2019/11/religious-affairs-minister-in-sudan-signals-freedom-of-religion-in-new-era/ #
"They [Christians] are Sudanese, and their religion is heavenly with its values and beliefs," Mufreh told Asharq Al-Awsat, saying that Christians have such a presence in Sudan that they should not be described as a minority. Sudanese Christians hope the comments mark a sea change from the Islamist campaign of Bashir, ousted by the army on April 11 after widespread protests began in December 2018. #
8#
¤
Synode: Alt andet end ordination af kvinder#
Catholic Bishops Agree: Anything but a Woman#
30-10-2019#
https://www.nytimes.com/2019/10/30/opinion/catholic-married-priests-women.html #
The modern Catholic Church is beset with serious problems. Among them is that not enough men want to be priests. Over the past three weeks, 184 bishops gathered at a Vatican summit to seek solutions for the Amazon region in particular, singled out because of myriad crises it is facing, including environmental devastation, violence and a shortage of priests to serve the needs of the faithful there.The bishops' solution: Do anything other than ordaining women as priests.#
8#
¤
Det lutherske Verdensforbunds hospital Augusta Victoria i økonomisk klemme#
Public statement from the Board of Augusta Victoria Hospital#
29-10-2019#
https://www.lutheranworld.org/news/augusta-victoria-hospital-board-calls-immediate-solution-critical-financial-situation? #
The board of the Augusta Victoria Hospital has met in Jerusalem to discuss the crisis situation that has arisen due to the non-payment of patient fees by the Palestinian Authority, to the amount of 45 million euros. This puts the hospital in an unsustainable position. The hospital is no longer able to purchase medicines or equipment which is needed to treat patients, and puts these children, women and men and their right to health services at risk. The Augusta Victoria Hospital has provided medical services to the Palestinian people in the West Bank and Gaza for more than 70 years, with a specialization in cancer treatment. AVH operates under the highest quality standards and certified by the international accreditation body Joint Commission International (JCI). #
8#
¤
Chiles biskopper advarer mod vold mod kirker#
'Without any respect for God': Bishops denounce violent attacks on churches in Chile#
14-11-2019#
https://www.christianpost.com/news/bishops-denounce-violent-attacks-on-churches-in-chile.html #
Catholic bishops in Chile have denounced the violent attack on a church../..The Chilean bishops said the violent incidents are hindering people "from giving the right amount of attention to the claims of the majority of the Chilean people, who yearn for real and peaceful solutions."<br>"... along with so many Chileans, we radically oppose injustice and violence, condemning it in all its forms," they added, calling on the government to "apply the law" and "re-establish civic coexistence."#
8#
¤
Jimmy Carter (95) samler folk fra hele USA som underviser i sin kirke#
Still teaching at 95, Jimmy Carter draws devotees to church#
11-11-2019#
https://www.washingtonpost.com/national/religion/still-teaching-at-95-jimmy-carter-draws-devotees-to-church/2019/11/11/4ad63632-044a-11ea-9118-25d6bd37dfb1_story.html #
The pilgrims arrive early and from all over, gathering hours before daybreak in an old pecan grove that surrounds a country church. They come, they say, for a dose of simple decency and devotion wrapped up in a Bible lesson.<br>The teacher is the 39th president of the United States, Jimmy Carter...His message is unfailingly about Jesus, not himself.#
8#
¤
Katolsk kritik af Trumps svigt af Parisaftalen #
Catholics call Trump's move from Paris climate deal 'unconscionable'#
05-11-2019#
https://www.ncronline.org/news/earthbeat/catholics-call-trumps-move-paris-climate-deal-unconscionable #
Catholic organizations were quick to condemn the Trump administration as it formally began the process to withdraw the United States from the Paris Agreement on climate change, calling the move "unconscionable" and one that poses "far reaching and disastrous consequences for life on our planet as we know it."#
8#
¤